Until 09/25 -10% discount on a selection of items
Childhome 4 Seater Stroller Quadruple - Anthracite
CHILDHOME_GOLD
Reference : CWQDN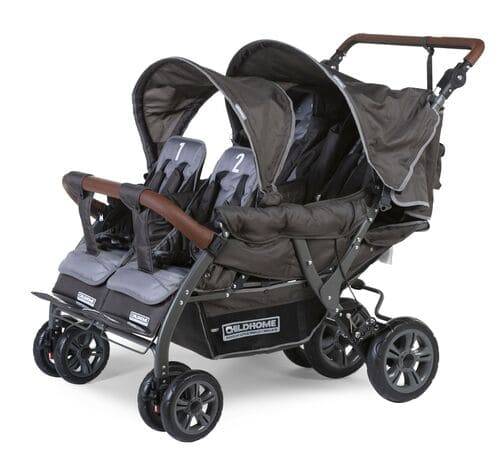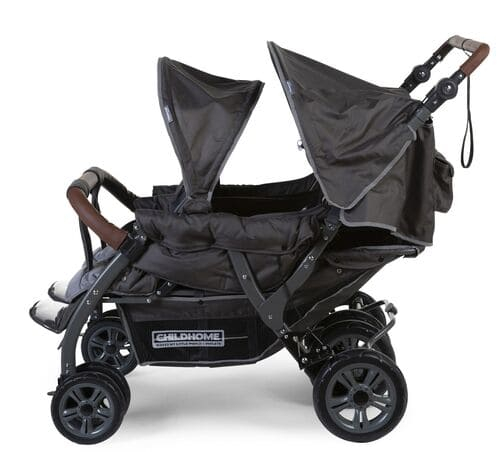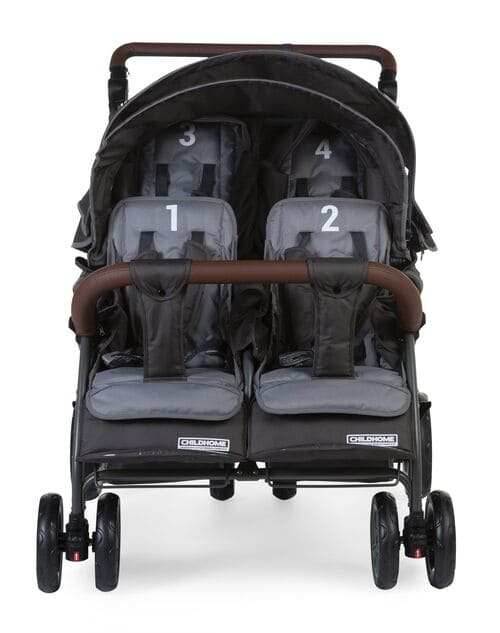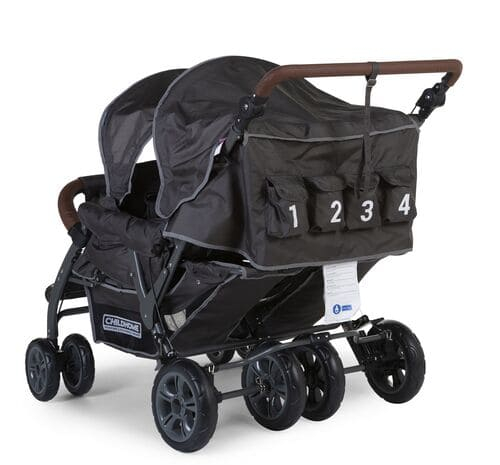 Very practical for nannies and nurseries, this folding stroller allows the installation of 4 children simultaneously
You will earn 1099 Babypoints by purchasing this product, i.e. a discount of 43.96 €
Delivery 2 to 4 weeks
Special Offer
1249,00

€

Total price with tax
1099,12
€
Childhome Quad Stroller
Includes :
Childhome 4 Seater Stroller
Rain cover
Protective cover
Sit up to 4 children in your Quad Stroller and go on an adventure with your little ones comfortably seated in their adjustable seats , individual and usable up to 15kg.
The walks will be safe for your children but also for you thanks to the reflective strips improving your visibility when it is dark and the 5-point harnesses ensuring an optimal support.
The seats are covered with sun and wind protection canopies for added comfort, and you can fold your stroller to store it when not in use. Baskets and small bags allow you to store your children's essentials.
It is recommended that 2 people handle the stroller when getting in or out.
Quadruple Childhome Features:
Can seat up to 4 children simultaneously
It is recommended to be two people to handle the stroller on an incline
Individual and adjustable backrests
5-point safety harness for better support
Adjustable footrests
2 removablecanopies for sun and wind protection
4 large wheels at the back and front, suitable for city and country use
Front swivel wheels for easy maneuverability
Automatic brake: activates as soon as you let go of the handle
Push the handle down to move the stroller forward
Easy folding for storage
Reflective strips on the sides of the stroller keep you safe at night and in the dark
Central foot brake, ensures a totally immobile position
Leatherette handle and front bar
Removable safety bar
Numbered seats and bags
Bags in the back to store your child's belongings
Large shopping baskets under the stroller
Solid steel frame
Accessories included
Usable from 6 months to 15kg per child
Dimensions 4 Seater Stroller :
Weight: 34kg
Dimensions folded : 84x110x74cm
Dimensionsunfolded : 130x85x108cm
Handle height : 107cm
All the equipment for little ones
A team at your service since 2014
Fast shipping within 24 hours
100% secure payment